Diving
Book now
Our in-house PADI 5 Star Dive Resort is managed by a friendly and experienced team.
We excel in providing travelling scuba divers with memorable diving experiences from Fundu's own fully equipped dive facility, Dive 710. The emphasis is on getting the most out of the sport whilst retaining respect for diver safety and the environment. We offer beginner courses, advanced instruction and guided day or night dives and provide all of the equipment required.
Pemba's tranquil surroundings have a unique underwater experience, difficult to find anywhere else in the world, gifted with a remarkable variety of untouched snorkelling & diving sites rarely visited by any other boats. Regular sightings of schooling barracuda, giant trevallies, napoleon wrasse, huge groupers, turtles, blue-spotted, blotched fantail eagle, and manta rays as well as thousands of reef fish.
The waters around Misali contain more than twice the number of coral genera than are found elsewhere in Tanzania, often seen are beautiful gorgonian sea fans and giant sponges amongst fields of ancient cabbage corals and over 300 species of fish.
Average visibility ranges from 20 to 40 meters, peaking from October to March, when the sea conditions are calmest. The water temperature is a warm 27 to 28°C and the dive centre is stocked with the appropriate 3mm full-length wetsuits as well as Scuba-Pro and Aqualung equipment.
To dive with us you will be required to have travel insurance that covers scuba diving. Alternatively dive insurance can be bought locally from the Divers Alert Network (DAN). Also, on the medical advice of the DAN organization we do not allow guests to dive if they are using Larium as an anti-malarial.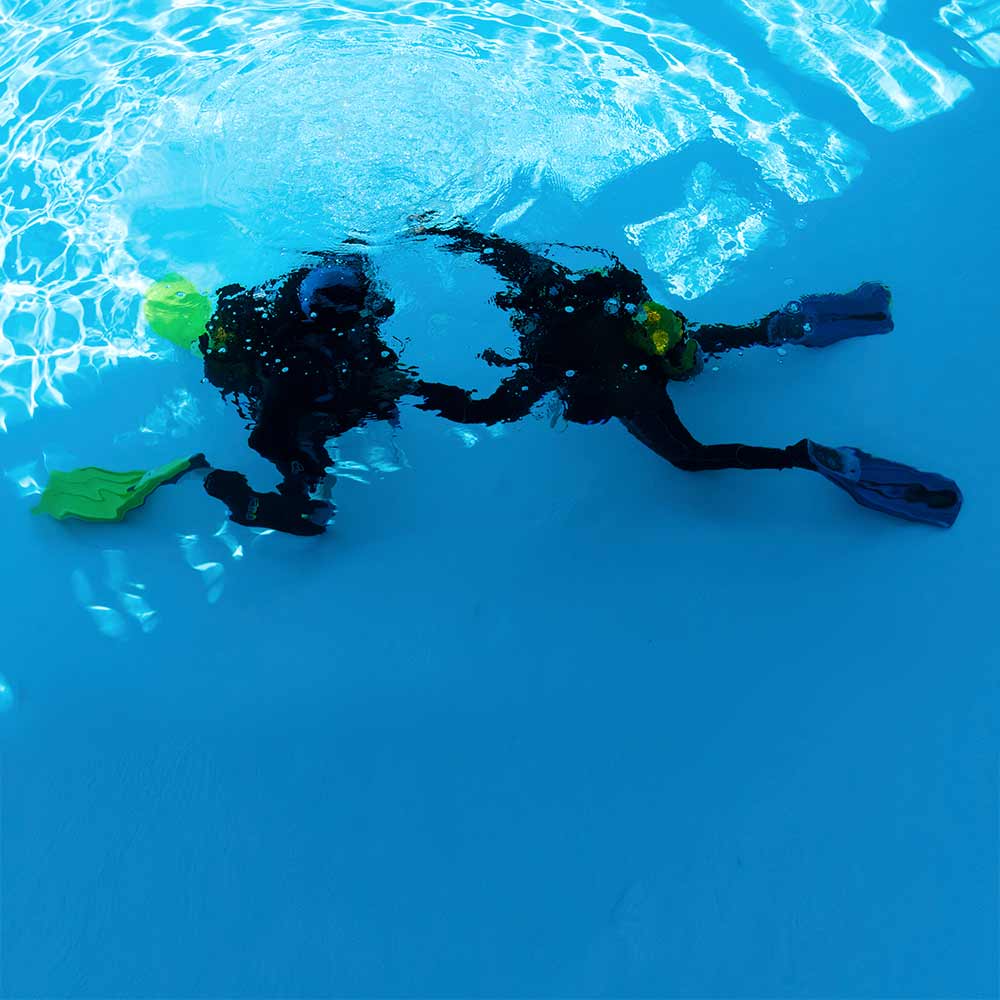 Diving Courses
Discover Scuba Diving: ½ day introduction
Scuba Diver: 3½ day course that allows 12m diving with a qualified dive leader
Open Water Diver: 5-6 day course leading to full entry level for independent diving to depths of 18m
Open Water Diver Referral: recommended, allowing theory and exams to take place before arriving at Fundu Lagoon. Designed for divers who have almost qualified but still need to successfully complete their 4 open water dives to obtain their Open Water Diver qualification
Advanced Open Water Diver: includes underwater navigation, deep diving and any three of either boat diving, drift diving, night diving, underwater naturalist and wreck diving. This allows independent diving to a depth of 30m
Rescue Diver (please book in advance)
Dive Master (please book in advance)
Diving Conditions
The tiny villages of Pemba have had little impact on the coastal waters surrounding the island. The area is typified by turquoise shallows and plunging coral walls that can drop to depths of over 100 meters. Visibility averages between twenty and forty meters. Water temperatures are between 27C and 28C, dropping to 25C in the winter. These waters are home for thousands of brightly coloured reef fish and the large pelagic fish that hunt amongst them. Napoleon Wrasse swim side by side with tuna, jacks, wahoo and shoals of barracuda. Manta and eagle rays frequent the area. Hawksbill and green turtles swim, rest and eat on the reefs. Garden eels, star fish, molluscs and crustaceans are all at home in the vibrant surroundings of corals and sponges. All the photos in our dive gallery were taken at Fundu Lagoon.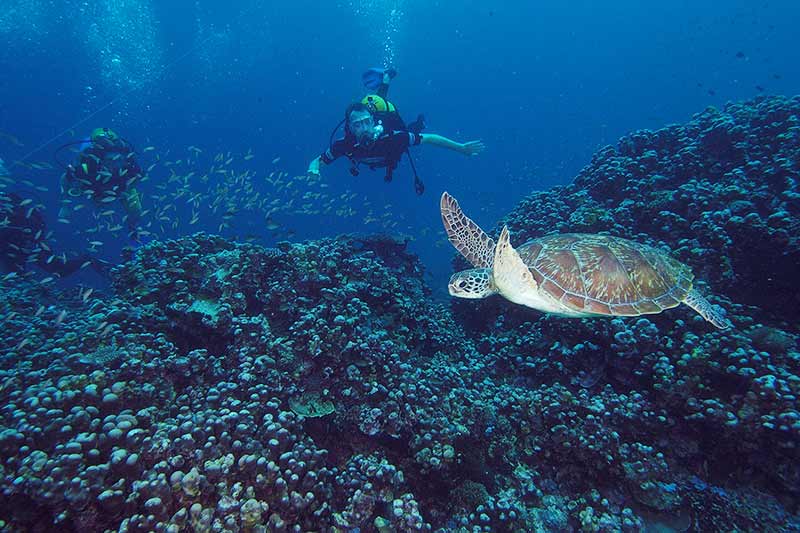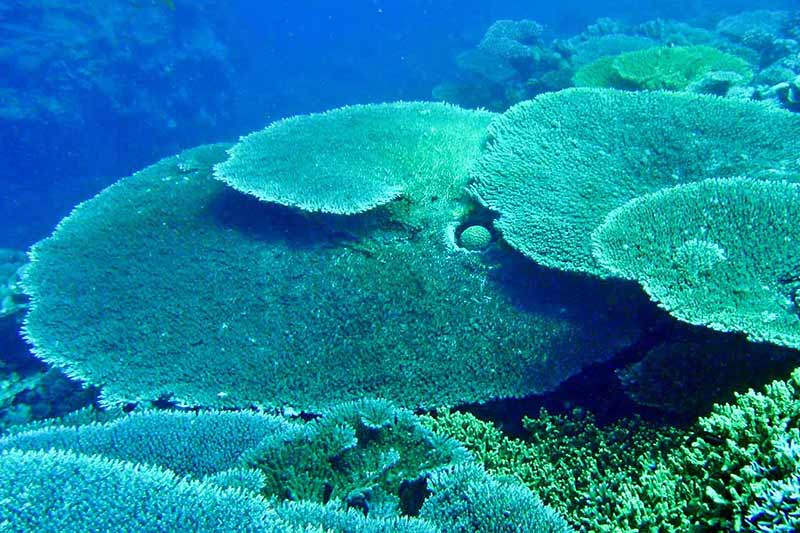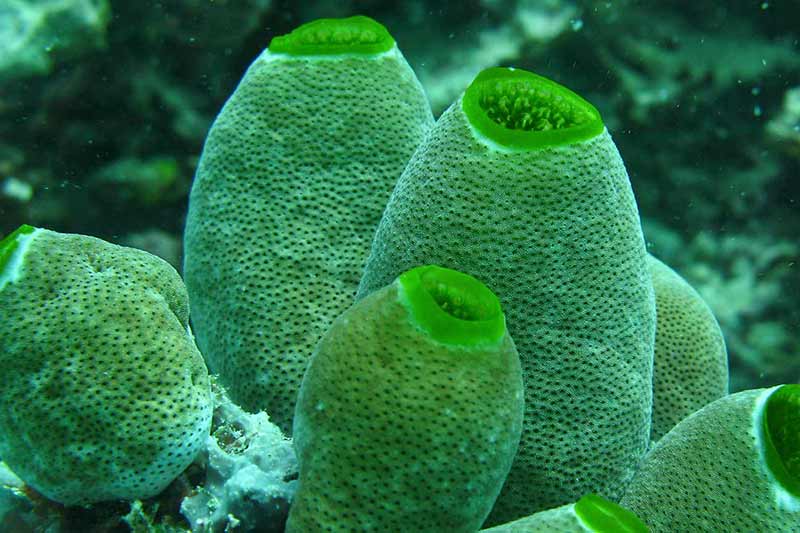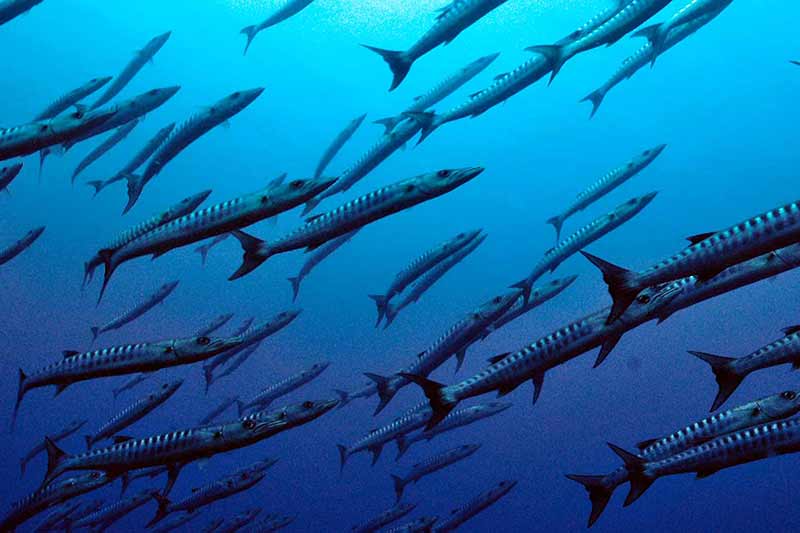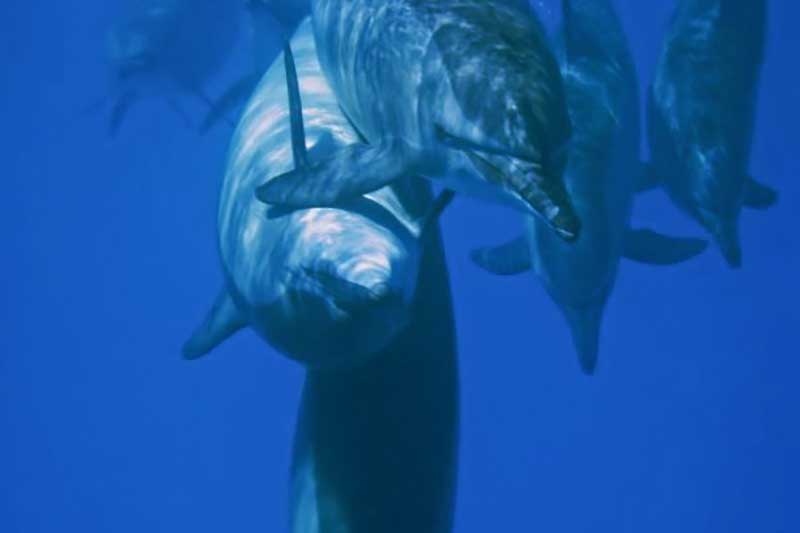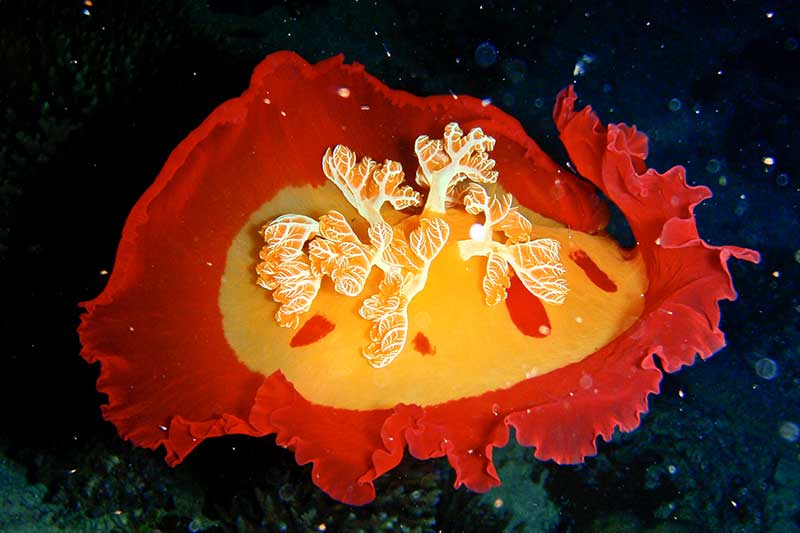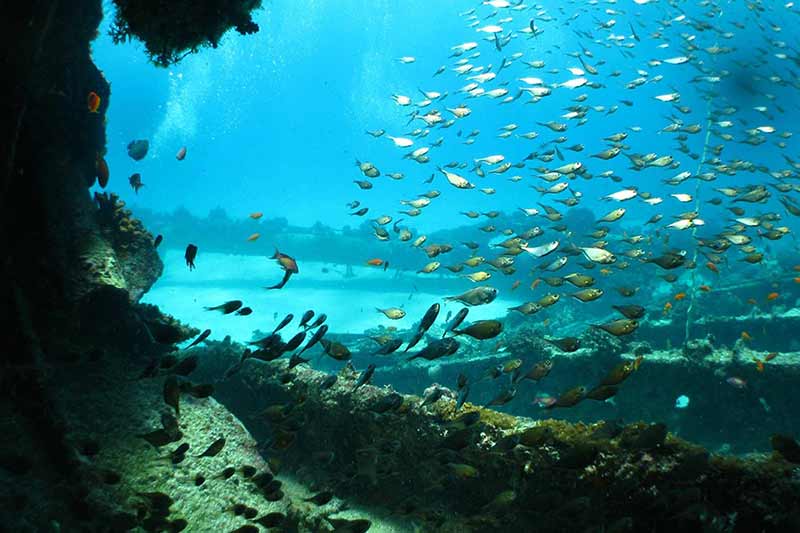 Green Sea Turtle
Coral Acropora Table
Synascidian Urn Sea Squirt
Barracuda
Resident Dolphin Pod
Spanish Dancer
Panza Wreck "Paraportiani"
Spotted Pufferfish
Diving Sites
Pemba is indeed an underwater naturalist's dream and opportunity to discover the real meaning of marine paradise. It is well known for the untouched pristine diversity of dense corals and formations of every description. Most of our dive sites are wall dives. At present, the West and South coast of the Pemba Island has been explored more often than East coast because it is close and easily accessible to the mainland. The East coast also forms the leeward side during the monsoon, making diving conditions on West side of Pemba more favoured year round. From October through March you can also dive and explore the southern part of the Island.
Misali Island

The name Misali is a Swahili word meaning 'praying mat'. The beautiful beach of the island faces Mecca which is the direction Muslims face when they pray so that is why it is named Misali. Misali Island is the nearest dive and snorkelling spot from Fundu lagoon. It takes about 15-20 minutes on our speed boats. The first and the last impression of this island is the colour of the water, which ranges from a vivid turquoise in the shallows to deep indigo blue where land falls away. The reef slopes right from the beach at Misali with calm and extremely clear waters so snorkelers can enjoy their time in the natural aquarium at their own pace. Low tide is the best time for snorkelers as you will be closer to the reef but at high tide you will still only be hovering 5m above.

Coral Mountain

Based on submarine eminence, it is not a mountain as such, but a wall that rises from 80m to 5m. The wall slopes gently down to 20m then it steeps off to un-diveable depths and the waters stay deep and dark blue. The whole wall is covered by a pristine diversity of corals mainly table corals and cabbage, or rose corals where there are shoals of fusiliers, unicorn fish, pullers, cave cleaners. Giant triggerfish are spotted here, potato groupers hiding under small overhangs. Green and hawksbill turtles are also spotted. Because the reef is so pristine, it becomes the home of small, unusual marine life like leaf fish, mantis shrimps, cleaning shrimps and nudibranchs. Look in blue for big marine life like massive napoleon wrasse, blue fin trevally and on sandy area we spot kuhls stingrays and torpedo rays. Rainbow runners and king fish are also spotted here as well as hump head parrotfish. Look under table corals for puffer fish and scorpion fish, lionfish and many more. The site is suitable for beginners and experienced divers. We do experience current but most of the time is easy current. It is best to dive in incoming tide for better visibility.

Coral Garden

Coral Garden is located at the southern end of coral mountain reef where the shallows are very beautiful and covered with hard corals. It can be good for snorkelers too as the depth ranges from 4m to 20m. It is a good introduction to wall diving and is great for beginners and experienced divers. Coral Garden flourishes a remarkable abundance of marine life like schools of surgeon fish, many lines snappers, black snappers, hump head snappers, moray eels, long spiny lobsters, octopus, sting rays, nudibranch, fusiliers and many more.

Mapinduzi Reef

Mapinsuzi is a Swahili name meaning revolution; the reason behind this name is that the current on this particular site is unpredictable and is generally strong. Depending on the tide and the moon, it is best to dive in coming tides. The stronger the current the bigger the chance to see big marine life. The top of the wall is 8m - 10m, and then a near vertical wall slopes down to around 40m - 50m. This point is on the outside edge and can be used if the water drifts into the gap. Usually strong currents can be pushing into the wall. It is recommended for experienced advanced divers because the current is unpredictable. Look for giant groupers, shoals of barracuda, mobula rays, eagle rays, big eye trevally, huge napoleon fish and sometimes hump head parrotfish.

Wowowo Reef / Utalimani Wall

This is yet another wall dive falling between 6m - 30m. You will see large gorgonians and fans, whip corals decorating its cliffs, schools of black snappers and black spotted snapper, sweet lips and coral pinnacles an undulating bottom with sandy gullies and green tree like hard corals which attract smaller fish to hover on.

Uvinje Gap

Uvinje Gap is a wall dive inside the channel where the top of the reef is 6m - 10m and it slopes down to 35m. The coral formation of this reef is excellent and is in good condition with a tremendous variety including very large sheets of table corals. The main feature is its fascinating overhangs and host of fish like butterfly fish, triggerfish. The shallow teem with impressive coral heads which are richly inhabited with swarming reef life and covered with colourful sponges and other forms of invertebrate life. You might see turtles and eagle rays hovering around. It is good for both experienced and non-experienced divers.

Uvinje Outside Wall

This is a small point on an extensive site. Depending on current direction, you can adjust the drop point accordingly. The top of the wall is 6m and it slopes down to 45m. Huge napoleon fish, eagle rays, and blotched fantail ray are normally spotted here.

Fundu Gap South

Fundu Gap South is better with the current on an incoming tide and starting on the outside of the gap. The top of the reef is 8mtrs below the surface. The wall goes below 30m and as you drift in a northerly current nearer to the gap, the sandy bottom joins the wall and drops dramatically down to below 80m. The wall is a sheer even overhang on the corner before you enter the gap. Most of the activity is usually found on the corner. Alternatively you can begin on a point inside the gap and drift out with the current. Inside the gap is more of sandy slope that full with corals and rock, and it becomes more vertical as you drift out. Visibility can be poor in outgoing current. Dense masses of yellow or black spot snapper, sweetlips, and damselfish, napoleon wrasse giant trigger fish, red gorgonian sea fan are found here too.

Njao Gap South Wall

Another vertical wall, forming some overhangs, amazing gorgonian sea fans, eels, turtles, groupers, wrasses, and other concentration of fish. Begin outside the gap and drift northwards and inside.

Njao Gap North

It is another interesting and dramatic dive site. The lovely coral garden slopes from 5m to 18m and suddenly plummets down into un-diveable depths. The current can be strong here and allows divers to use the northbound current to sweep them through the gap into the lagoon, with no risk whatsoever. Large napoleon wrasse, green turtle and dense of diversity other species of reef fish.

Manta Point

The underwater mountain is nice to dive on an incoming tide. The top of the reef is about 8m to 12m down and is about 40m long and 15m across. On its eastern flank, it drops down to 25m before the bottom rises up again to form the wall that is fringing with reef. North and south, the reef drops down to below 60m, the west side drops more steeply and is covered with corals. You may be lucky enough to see eagle rays and devil rays at this spot.

Emerald Reef

Emerald Island is covered by a green coral, sponges, soft and hard corals which lends an intense hue of the entire reef and creates the illusion of floating in a fairy-tale garden of dramatic, soft coral trees backed by huge coral heads. The coral formations are pristine and unspoiled, and the reef lends itself ideally to great drift dives because of its length and immense beauty, coupled with the fact that the water is always crystal clear. Do not be spoiled by the beauty of the reef scenery as the greatest show may be passing silver barracuda, big eye emperor fish, big eye trevally, Napoleon wrasse, potato groupers. It is good for advanced divers.

Panza Wreck "Paraportiani"

In 1967 the Paraportiani was sunk off Pemba Island, Zanzibar. The 94m cargo ship, transporting wheat from Romania to Jeddah, was diverted around the African coast when the Arab-Israeli conflict closed the Suez canal. Shortly before the end of the voyage, the ship lost its radar and echo-sounder and ended up navigating by traditional methods in unfamiliar waters. Strong and unpredictable currents forced her onto the reef. Unlike many other wrecks, this one is extremely photogenic and the clarity of the water and good lighting conditions contribute with interesting angles which are covered with colourful marine growths, soft corals, and sponges. The funnels create interesting tunnels to swim through, in which large fish such groupers and napoleon wrasse hide. Dive on slack tides and even then you can find strong northerly currents that swirl around the wreck.

Light House

Another wall dive of mainly hard coral coming up to the surface on low tides. A strong northerly current is common here, that is good for advanced drift dive. Loads of basslets and barracudas, potato bass, napoleon wrasse and many more.
Diving images: OceanSense
Diving